I hosted a wine contest last night. Thirteen people came, and each brought
two bottles of wine. We all tasted one of the bottles, while the other bottle
was put into a prize pool. (Hat tip to Gothamist
for the idea.) Every person scored every wine on a scale from 1 to 20, and then
the scores were aggregated. For this contest, we decided to taste red wines
retailing for between $15 and $40. Here are the results:
Wine
Total score
Price
Clos

del Rey

, Languedoc, France, 2002
183
$34
Marion,

Cabernet Sauvignon, Veneto, Italy, 1999

180.5
$40
Priorat, Embruix,

Vall Llach, Spain, 2003

162
$27
Domaine de Bonserine, Côte Brune, Côte Rotie, France, 2000
159
$28
Caro, Cabernet/Malbec, Argentina,

2001

157
$37
Bonny Doon Old Telegram Mourvedre,

Contra Costa County, California, 2001

152*
$25
Castello di Modanella, Campo

d'Aia

, Sangiovese, Tuscany, Italy, 1998
136*
$23
Chiaramonte

Nero D'Avola, Sicily, Italy, 2002

135
$19
Domaine Maria Fita, Fitou, Languedoc, France, 2002
134.5
$24
Prunotto, Fiulot,

Barbera D'Asti, Piedmont, Italy, 2003

133.5
$17
Capçanes Mas

Donís

, Montsant, Spain, 2003
129
$14
Robert Sinskey, Los

Carneros

, Pinot Noir, Napa, California, 2003
125
$34
Maria Fita, Le Schmitou, Vallée du Paradis, France, 2002
84
$21
*The scores with an asterisk are the two wines from people who took the game
a little too seriously, who recognised their own wines and gave them their highest
score just so that they would have a better chance of winning. Of course, neither
won. The full results, in Excel format, can be downloaded here.
If you plug the scores and prices into a correlation
calculator, you get a result of +0.61, which I have to admit is higher than
I thought it would be. Here's a scatter chart so that you can see the results
visually: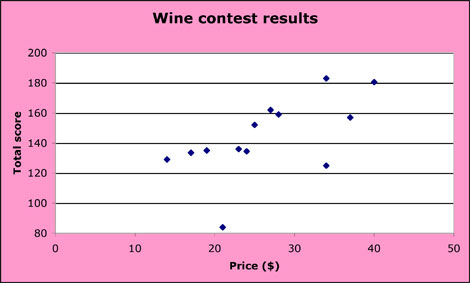 There was one wine which everybody hated – the Le Schmitou. Interestingly,
it's a Fitou from Maria Fita's Eric Schmitt, just like the Maria Fita Fitou
which came in at a much more respectable 9th place. The difference is where
in France the wine comes from – the location seems to make an enormous
difference, since the Languedoc was quite dark and bitter, while the wine from
the Vallée du Paradis, near the Spanish border, was far too sweet for
anybody's taste.
Beyond that, it seems that there was a large number of more-or-less average
wines, getting between 125 and 136 points, and ranging from $14 to $34 a bottle.
To no one's great surprise, the really overpriced wine – worse and more
expensive than most of the rest – came from California: the Robert Sinskey
Pinot Noir.
The top two wines were both reasonably expensive. The winner was by far my
favourite wine of the lot (I gave it 17 points, while my second-favourite got
12), and I was happy to see Luke walk away with his choice of the prize pool.
That included my wine, the Caro, which I was very disappointed I didn't rate
more highly.
The party itself was a huge success, lots of fun, and we'll definitely do it
again. But I did learn a couple of lessons. Firstly, when you're tasting a lot
of wines in succession, on their own and not in the context of a meal, it's
hard to really appreciate them all. Secondly, the wines which we were rating
average, and giving 10 points or so to, were all much more expensive than the
wines we normally drink, and we would probably love them in most everyday contexts.
So these results should probably not be taken too seriously. But I think I might
try and track down a couple of bottles of that Clos del Rey all the same.