The fifth annual* Von Salmon Wine Contest returned to the East Village last night, and this one was the nerdiest yet. Rather than use grape varieties (Pinot Noir, Merlot, Rioja) or region (Beaujolais) as the theme of the contest, we decided to say that entries had to be French reds imported by Kermit Lynch.
This was definitely the highest-quality contest yet: all the wines were really good, and it was very hard to rank them. When Michelle wanted a simple guide to buying good wine in a wine store, I told her many years ago to just turn the bottle around and look for two men in a boat on the back label. And that turns out to have been pretty good advice. (Except, nowadays, not all Kermit Lynch wines have the two-men-in-a-boat etching on the back, sadly.)
I decided to change the scoring mechanism, this year, to the Borda Count. It's the fairest way of ranking wines in a contest like this: when we were scoring the wines on a 20-point scale, people who gave some wines 2 points and other wines 20 points ended up having much more influence over the final outcome than people who ended up giving scores in a much narrower range.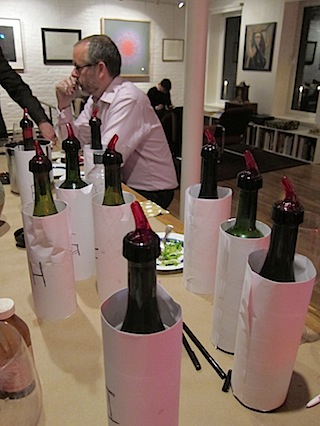 We tasted nine wines in all: a small enough number that you could remember them all, go back and forth between them, and generally try to come up with a reasonably sophisticated and informed ranking. But it was hard: they were very good, and very different. Wine F, in particular, stood out: it was weird and funky, in a good way, and a lot of people ranked it as their favorite. But it was also quite heavy and rich, which made it hard for the lighter wines to compete.
We made sure that everybody was well fed: all these wines are designed to be drunk with food, rather than blind on their own. So we had a spectacular lamb stew, as well as great salad, bread, and cheese. The real star of the evening was not any of the wines but rather the chef, Baroness Michelle Von Salmon.
Everybody had to rank their wines from best to worst, on the understanding that even the worst wines were, in this contest, really good. Each wine then got a score: the top-ranking wine got 8 points, the next 7 points, and so on down to the lowest-ranking wine, which got zero points. Finally, when we worked out which wines were which, each person who brought a wine had the score they gave their own wine discarded.
There were ten people scoring the wines — Andrea didn't bring a wine of her own — which means that each wine got nine scores. The minimum score was zero; the maximum was 9×8=72.
In the end, the scores ranged from 12 to 53. The lowest-scoring wine was a Beaujolais, a Cote de Brouilly from Thivin. It's a lovely wine, but it was also a lower in alcohol than any of its competitors, and hot wines tend to win blind tastings.
There was a tie for first place, which went to the two wines from the Languedoc-Roussillon. One was a Faugères from Léon Barral; the other was my own entry, the Mas Champart. Both are quite big, at 14% alcohol, but then again so were most of the other wines: both Simon and Lock brought 14.5% wines from the southern Rhone (a Gigondas from Les Pallières and a Chateauneuf du Pape from Domaine la Roquète respectively), and those wines didn't score nearly as well.
In the bang-for-the-buck stakes, my Mas Champart was the clear winner, with 3.8 points per dollar: not only was it the joint top-ranked wine overall, but it was also the cheapest wine in the contest at $14 per bottle. The most expensive wine, Glenda's $85 "La Tourtine" Bandol from Tempier, managed just 0.3 points per dollar. That wine, annoyingly, just gives "11-14%" as its alcohol content, so it's unclear whether its relatively low placement — it got 29 points, for 6th place — can be blamed at all on its ABV. But certainly some of the high-alcohol wines tasted much lighter than others: there's much more to how heavy a wine drinks than just how hot it is.
As ever, I've uploaded the full results, in Excel format; I encourage you to download the file and play around with it. But one thing's clear: once again, just as happened in the Pinot contest, if you plot price against quality, you end up with a negative correlation. (This time, the calculator spits out a correlation of -0.12.) In other words, if you buy a more expensive wine it's not likely to be any better, and it might well in fact be worse than the cheaper alternative. At least in a highly-artificial blind-tasting context. Here's the scatter plot: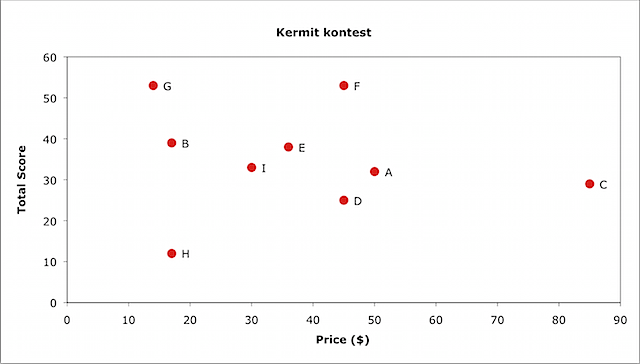 G, here, is the Mas Champart; F is the Barral Faugères; H is the Thivin; and C is the Tempier Bandol.
And here are all the wines which got entered, in order A, H, C, I, E, D, B, G, F. The two winners are the two wines on the far right. But really, you can't go wrong with any of these. Many thanks to everybody who entered, and many congratulations to Jay for winning again.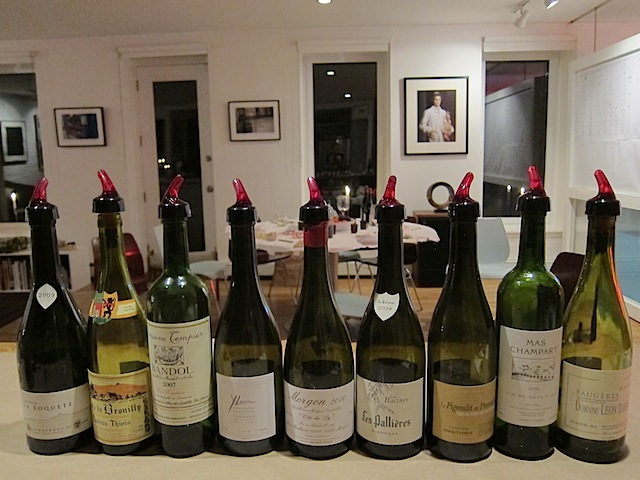 *Five Six contests in seven years counts as annual, right?