Another pork-related guest post from Michelle:
Less than 24 hours after Felix returned from Shanghai we cycled over the B'Burg Bridge for more summer weekending in Brooklyn. This time 85 degrees with thunderstorms and tropical showers, but that didn't keep us away from an anticipated pork feast. No way. We hit the 3rd Ward 2nd annual pork roast which included the entire population of Williamsburg hispters plus us, all packed into one building.
We waited in a very long line which did not move for almost one hour, and yet I was completely content drinking a beer patiently (generally not my greatest virtue) while arguing whether or not we were in East Williamsburg or Bushwick as a very loud garage punk band entertained the crowd.
Rockstar butcher Tom Mylan carved up the most gorgeous roasted pig while a team of folks assembled tacos for distribution. Felix and I watched the tacos roll out with small bits of pork as we frowned and looked at each other, "Forget THAT." I was hardly about to wait in a one hour line for tacos. When it was finally our turn, I pushed Felix up to the counter and whispered in his ear, "No rice. No beans, no tortillas – just try and get us the pork". Felix then asked, "Can we order pork only?" and the lady looked back at him with a glare, "That will be $12… EACH." Like it was out of the question or something… Done.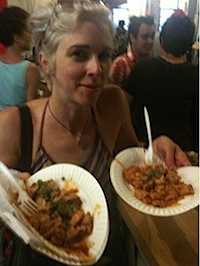 She wrote on our paper plates: "Plate Of Pork" and passed them back to the taco team. They rolled their eyes and passed the plates back to the pig. Yay! Bring it on… large juicy mounds of pork wobbled around on the flimsy plates as we snatched the goods and found a corner to merrily eat in silence.
A wave of euphoria swept over us, like some crazy grease high. Showers came plummeting down from the sky and the crowd took cover, but never left the line. You don't wait that long for Tom Mylan roast pork and leave just because there's a monsoon. Thank you 3rd Ward, thank you Tom & crew. Happy Sunday in Brooklyn, Happy Dead Pig.