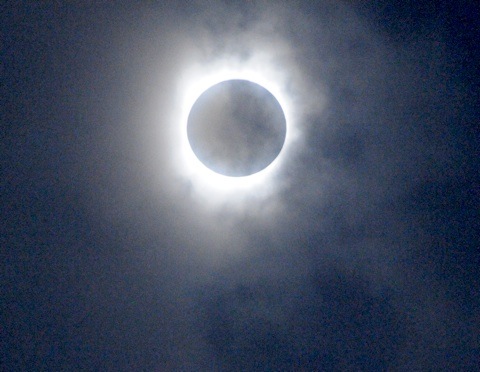 It was touch-and-go there, pretty much all the way. In the days leading up to today, Stefan was obsessively checking the forecasts and the satellite pictures, looking at an enormous thundercloud, at least 1,000km across, which was right in the way and which would make the eclipse a total wash.
But then, yesterday, the cloud broke up, and Moganshan — where we're staying — was bathed in sunlight. The people operating the resort said that it's always clear in the mornings, and when we climbed the hill to look east over the plain, we were excited to get a perfect eclipse at 9:33am.
When we woke up, however, it was overcast and drizzling, and by the time we were looking out over the plain, you could barely see it, let alone the sun. We were convinced it was going to be a complete washout, where we wouldn't see anything but the sky getting dark and then light again.
Happily, we were wrong. Just as the eclipse was approaching totality, the sun started peeking out from between the clouds, and at one point there was an astonishing sight where you could even see what was left of the sun in the middle of a tiny swatch of blue sky, with sunbeams streaming down between almost-black clouds.
And then it arrived: the sun was blacked out, the corona appeared, and the eclipsed sun spent 5 minutes and 47 seconds peeking in and out behind the clouds. It wasn't dead-of-night dark, but it was definitely late dusk. And decidedly cooler than the normally-sweltering temperatures, too.
We didn't get the Full Eclipse Experience: the dark-indigo sky, the view of the orange horizon, the vision of the shadow of the moon rushing towards you and then away from you at 3,000 miles per hour. But we got something truly special all the same. It was my first total eclipse, I don't know if I'll ever see another. And I'm not in the slightest bit disappointed.
(The photo is by Stefan Geens. That's exactly what we saw.)