Cowen takes issue with Greg
Clark, who has an interesting thesis – that world economic history
can be explained by a move from a Malthusian world where the most successfully
violent were the most reproductively successful, to a capitalist world where
the richest were the most reproductively successful. Here's the chart: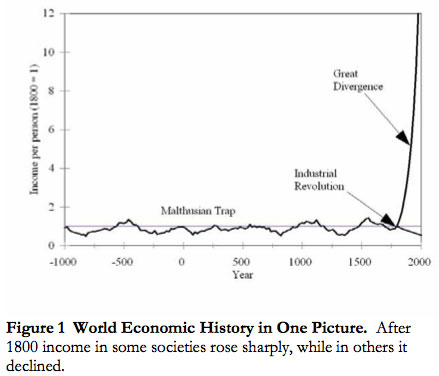 Cowen's problem is that Clark hasn't explained a particular advantage for England,
where the industrial revolution was born, over the rest of Europe. But I don't
see this as a problem. I see Clark's thesis as explaining the economic history
of all of Europe, not as trying to explain why England's growth rate took off
marginally earlier than other countries' growth rates.
I'm quite convinced by Clark, actually, because his thesis fits neatly into
that of Dan Gilbert, of
Stumbling on Happiness fame. We're genetically bound to strive to make money,
and to believe that making more money will make us happier. And maybe the real
hope for a country like Bhutan, which seeks to maximize "gross national
happiness" rather than GDP, is that its population doesn't have the same
genetic makeup and therefore doesn't have the same urge to destroy the commons
in the search for wealth.