Amy Lawday sends me a rather
weird on-the-one-hand-on-the-other-hand report-slash-editorial
about Brutalism on the BBC's website. The story comes in the wake of the first
listing of a Brutalist
building: the 1958 Old Vic Annexe, by Lyons Israel Ellis.
Writes Amy:
If it is agreed by a large majority that a building is dog ugly, and depressing,

then why save it?
I agree. I opposed the
preservation of 2 Columbus Circle for much the same reason:
Preserving great buildings, and even merely good buildings, is one thing.

But preserving provocative buildings is another thing entirely.

The fact is, the kind of people who love From Bauhaus to Our House are

exactly the sort of people who look at 2 Columbus Circle and consider it a

hideous eyesore. This building is one of the few things on which both die-hard

Modernists and most anti-Modernist laymen can agree: very, very few people

actually like it.
On the other hand, not all Brutalism is dog-ugly and depressing. The National
Theatre, for instance, to take only the most obvious example, is a wonderful
building and should be preserved. The Old Vic Annexe is not a wonderful building,
however: it's being listed not because it's good, but because it's early. And
that's a bad reason to list something.
But the thing which really puzzles me is the illustration halfway down the
BBC article: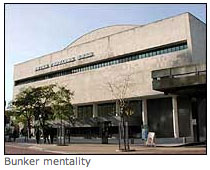 Yes folks, the editors at the BBC decided to illustrate an article about Brutalism
with an illustration of the Royal Festival Hall, one of the greatest post-war
buildings in the UK, and possibly my favourite building in London. I'm far from
alone in this: go there any day of the year, but especially in the summer, and
you'll find both the interior and exterior spaces thrumming with life. The foyers,
the balconies and the terraces all make the RFH one of the most open and inviting
buildings in the city.
What's more, the RFH is not Brutalist at all. For one thing it was built for
the Festival of Britain in 1951, so it's far too early to be Brutalist. For
another thing, it's not a big concrete slab: as this
page notes,
The brutalist approach of Modernists like the Smithsons and Erno Goldfinger

in the years ahead would owe little to the Royal Festival Hall's inviting

curves and whitewashed friendliness.
But even BBC journalists, it seems, are so architecturally illiterate that
they see a magnificent structure like the Royal Festival Hall and just because
it's made of concrete decide that it represents a "bunker mentality".
I hope that Ed Dorrell, the editor of the Architects' Journal and the author
of the BBC article, gives them a suitable amount of grief.