I had a little holiday last month, and discovered what might well be the greatest food city in the world: San Sebastian. Just, wow. The jamon iberico on the beach was, far and away, the greatest ham I've ever eaten — and it cost almost nothing compared to what you'd pay for it in Berlin. (In the US, it's almost impossible to find at any price.) But in terms of sheer gastronomic heaven, I have only one word to say to you: Gandarias. Go there for breakfast, go there for lunch, go there for dinner, and then come back the next day and do it all over again. You will be blown away.
Gandarias is, first and foremost, a pintxo bar — that's what they call tapas in Basque country — with the best little appetizers you'll ever have: the freshest, most delicious local ingredients placed lovingly on a small slice of baguette, 'Ǩ1.50 apiece. ('Ǩ2.25 for the cooked-to-order foie gras, which I highly recommend.) Ask for a copa of white wine, and you'll get a high-end wine glass containing wine just as fresh and delicious as the food — for just 'Ǩ0.95. The place is permanently, and justly, packed, and the atmosphere of crowded and infectious food-lovers is heady.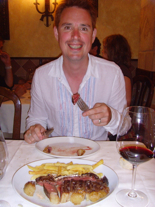 At the back is a small sit-down restaurant with menus, where you can — and should — really go crazy. The food is very reasonably priced for its stratospheric quality, and each dish is better than the last. San Sebastian is famous, of course, for its seafood — make sure you eat hake cheeks there, they're a revelation — but on our last night we decided that we should try the steak, too. It's typical of Gandarias, which is all about the food as opposed to the cooking, that all you do is order the steak. You have no choice of preparations — it comes one way only, simply served with nothing but sea salt. And like it or not, it's going to come very, very rare. I loved it: I think it's the best steak I've ever had outside Argentina.
Gandarias is the kind of restaurant I love more than any other: simple, unpretentious, friendly, and extremely high quality. It also has a magnificent wine list, and a clever wine-vending system using inert gases which means that they have an astonishing range of magnificent Spanish wines by the glass — not that their house wine isn't magnificent itself.
For visitors, Gandarias — and the many, many pintxo bars like it, it's far from unique in San Sebastian — is the way to go. Yes, there are higher-end places too: San Sebastian has more Michelin stars per capita than anywhere else on the planet. But given the quality of the "low" end, there's no need to go high end to eat fabulously well.
On the other hand, if you find yourself on the other side of the border, in Biarritz, I can definitely recommend Sissinou. It reminded me very much of Annisa, in New York: clean, simple, punchy, idiosyncratic, and utterly delicious. This is cuisine, rather than food, done extremely well — and not cheap.
You'll want somewhere to stay, too, and that's when you head up into the hills outside Biarritz and visit Hegia — which is talked about in this article along with Sissinou. We didn't go ourselves, but we have it on good authority that the food is outstanding, cooked in an open kitchen by the chef-owner, who will also put you up for the night in his old yet minimalist farmhouse. For what you get (deluxe accommodations, a multi-course dinner, and a fabulous breakfast in the morning), the price (I think it's 'Ǩ650 for two, or 'Ǩ750 with lunch) is not exorbitant, although it was out of our budget.
As for me, I just want to get back to San Sebastian, somehow. It's a beautiful town, with great beaches, friendly people, and the best conceivable food. What's not to love?