Some kind of genius: Stock or Not? Josh Reich has written a lovely little web app which puts two charts side by side. One is a real stock, the other is randomly generated. Can you tell which is which? I couldn't: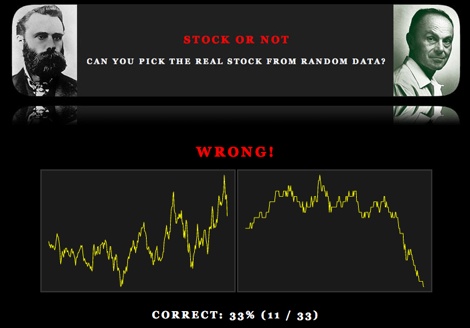 Mathematically, one would expect half the people taking this test to get scores over 50%, and half to get scores under 50%. I wonder what it would mean if a significant majority of people, like me, got scores well under 50%? (In fact, I got only one of the first five right: at that point I was down at 20%.)
NB: The app never ends: You can keep on clicking for as long as you like, and it will give you a cumulative total. The more you click, the more accurately the percentage reflects your stock-chart-picking prowess.