Doug Muir is a
bit late to the story that Transparency International has released its 2006
corruption perceptions index:
it actually came out back in November.
But he is good at getting people to create pretty charts for him, like this
one from commenter Christian (click for larger version):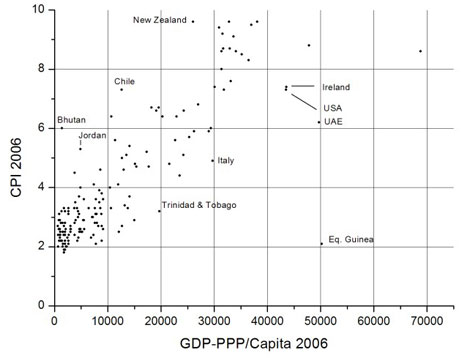 The chart has the corruption perceptions index on the y-axis, and PPP GDP per
capita on the x-axis. As you might expect, countries with lots of oil (Trinidad,
Equatorial Guinea, UAE) tend to be more corrupt than you might expect from their
wealth alone. And I'm sure that it comes as no surprise that Bhutan, Chile,
and New Zealand are the countries which outperform.
More interesting, however, as Muir's commenter Cyrus points out, is the fact
that there seems to be a pretty strong correlation up until you reach a perceived
corruption of about 7/10. After that level, the correlation seems to break down
quite spectacularly. Says Cyrus:
Diminishing returns to honesty? Or are people naturally somewhat dishonest,

and forcing them to be even more honest than they are inclined to be demands

a very costly enforcement effort?