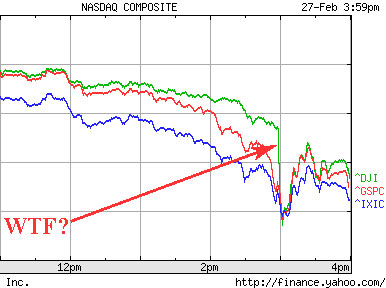 Here's the chart of yesterday's price action in the Dow, the S&P 500, and the Nasdaq. Note anything crazy? Like a whopping great big down-250-points-in-one-tick plunge in the Dow at about 3pm?
As you can see from the broader stock indices, there wasn't some market-wide moment of panic. So was there something which hit the 30 Dow stocks in particular? No. This from Dealbreaker:
"The market's extraordinary trading volume caused a delay in the Dow Jones data systems," said Dow Jones spokeswoman Sybille Reitz. "We decided to switch over to the backup system, and the result was a rapid catch-up in the published value of the Dow Jones industrial average."
In other words, a computer glitch.
So to the obvious question: Can someone please just take the Dow behind the shed and shoot it, already? It's an average, not an index, which makes it profoundly useless for measuring what stocks in general are doing. It comprises the grand total of 30 stocks, which makes it far from representative of the broader market in any case. And, as we saw yesterday, it can't even calculate itself reliably. Is there any purpose for this anachronism whatsoever?
UPDATE: The WSJ (published by Dow Jones, whose computers went FUBAR yesterday) has a very good, and free, overview of what went wrong.