Wow. This is HUGE, and no one seems to have noticed it. Back in May 2005, Sarah
Theule Lubienski and Christopher Lubienski published a report
in the Phi Delta Kappan saying that after controlling for student background,
mathematics achievement in public schools is actualy higher than that
in private schools. It's a striking finding: as the authors note,
The study focused solely on student achievement in mathematics — a subject

generally thought to be less influenced by family background and more influenced

by institutional effects than other school subjects such as literacy.
In other words, if this is true for mathematics, it's likely to be even more
true for other subjects.
The study went all but unnoticed: Google shows
the grand total of four web pages linking to it. I only found it because one
year later, the Atlantic found 127 words for it in its "Primary Sources"
This is a question I've been interested in for a while. In fact, last year,
when I was reviewing Freakonomics,
I put the question to Steven Levitt in an email:
I'm interested in the practical implications of your parenting chapter. It's

long struck me that private primary and secondary education is probably the

single most expensive thing in America which nobody ever seems to stop and

wonder whether or not it's worth it. I've seen lots of citations of the value

of a college education, but I've seen nothing about the marginal value of

a private-school education over a public-school education, or even whether

it's nonzero. Do you think this is something which private schools can or

should be able to provide? Data showing that, after adjusting for parents'

income etc etc, privately-educated kids do measurably better than they would

have done in their local public schools?
Levitt replied:
Absolutely fantastic question. It is something I have been interested in

myself, but haven't done research. It is a tough question, but the best research

I have seen suggests that Catholic schools might provide benefits to inner-city

black children. I am not aware of any evidence on college prep type of private

schools like the one I went to, but it may be out there. My own research,

which we touch on in the book, suggests that peer effects are much less important

than people tend to think — folks aren't good at separating inputs from outputs.

Which is your point I think. The biggest peer effects we see in my work is

on outcomes like going to jail, but almost nothing on test scores or graduation.
Well, now we have some data, and it seems to show that paying for a private-school
education is money very badly spent: it's like shelling out for a mediocre car
when the government will give you a better one for free.
Here are the graphs showing private-school and public-school achievement in
fourth grade and eighth grade, within SES (social-economic status) quartiles: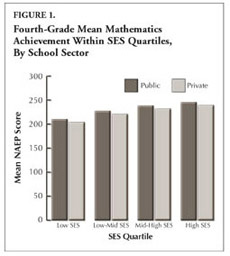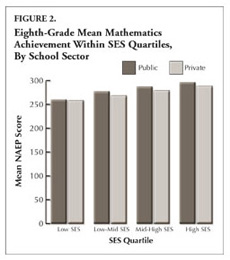 In all four quartiles in both grades, public-school kids clearly outperform
their private-school counterparts. Although private schools
do have better mathermatics results than public schools, that's entirely because
the kids in those schools are more privileged.
The Lubienskis conclude:
Our findings suggest that it is time for a critical reexamination of common

assumptions regarding the effectiveness of public and private schools. As

market-style reforms change the public school landscape, prompting many to

call for various forms of privatization of schooling options, it is important

to examine the evidence regarding whether private schools are, indeed, more

effective than public schools. In our study, once we accounted for the fact

that private schools tend to have higher-SES students than public schools,

we actually found just the opposite of what was expected: public schools outperformed

private schools within each SES quartile.
I could put it more simply: send your kids to public school.
They'll do better than they would at private school, and with the money you
save you can further improve their upbringing, education and lifestyle in many
other ways.
UPDATE: It turns out there's a more extensive and later survey, with much the same conclusions, which can be found here and was reported on in the NYT here.