According to Nick Kristof of the New York Times, MIT's Kerry Emanuel is a "hurricane
guru". Conveniently, Mr Emanuel published a major hurricane study in
Nature just before Katrina hit the US. What did that study say? According to
Kristof,
There are indications that global warming will produce more Category 5 hurricanes…

Nature magazine this summer reported a new study by Kerry Emanuel, a hurricane

guru at M.I.T., indicating that by one measure hurricanes have almost doubled

in intensity over the last 30 years.
That's what Elizabeth Kolbert, in the New Yorker, thinks
Emaneul is saying, too:
In a paper published in Nature just a few weeks before Katrina struck, a

researcher at the Massachusetts Institute of Technology reported that wind-speed

measurements made by planes flying through tropical storms showed that the

"potential destructiveness" of such storms had "increased

markedly" since the nineteen-seventies, right in line with rising sea

surface temperatures.
But wait! Here's Paul
Recer, in Slate:
There is one hurricane scientist who believes he has found a possible link

between global warming and storm intensity. But it's an entirely theoretical

one. In the Aug. 4 edition of Nature, Kerry Emanuel of the Massachusetts Institute

of Technology presented math models that he said "show a substantial

increase in potential intensity with anthropogenic global warming, leading

to the prediction that actual storm intensity should increase with time."

Emanuel concedes, however, that the observed storm intensities do not match

what the models predict and that his study can only "suggest" that

global warming "may" lead to more intense storms. In the New York

Times last week, he agreed with Gray and Klotzbach that the increase in hurricane

activity the last two years "is mostly the natural swing."
What's this about the New York Times? It turns out that alongside Nick Kristof's
opinion column, the NYT's news staff talked
to Mr Emanuel as well. Here's what the article says:
In an article this month in the journal Nature, Kerry A. Emanuel, a hurricane

expert at the Massachusetts Institute of Technology, wrote that global warming

might have already had some effect.

The total power dissipated by tropical cyclones in the North Atlantic and

North Pacific — including typhoons in the Pacific and Indian Oceans

— increased 70 percent to 80 percent in the past 30 years, he wrote.

But even that seemingly large jump is not what has been pushing the hurricanes

of the past two years, Emanuel said, adding, "What we see in the Atlantic

is mostly the natural swing."
It certainly seems as though Slate's Recer is being economical with the truth.
Obviously it's silly to blame global warming for an individual catastrophe like
Hurricane Katrina, or even for an uptick in hurricane intensity over a short
period of time like two years. That's likely to be natural swing. But if you
look at the past 30 years, then clear anthropogenic patterns can start to emerge.
But don't take my word for it: Kristof helpfully links to the actual
paper (PDF). Emanuel seems clear, saying that that storm intensities are
measurably greater now, and that global warming is at least in part responsible.
And once you read the paper, Recer seems even more disingenuous. While it's
true that "the observed storm intensities do not match what the models
predict," Recer fails to inform us that that's because the observed storm
intensities are actually much greater than what the models predict.
Far from the correlation with global warming being "entirely theoretical",
the observed data more than backs the theory up.
Observed storm intensities in the north Atlantic and western north Pacific
have more than doubled over the past 30 years. Meanwhile, a model based on sea
surface temperature alone would predict that those intensities might increase
by about 10%. There is another model, however, based on temperature in the troposphere
more broadly, which shows storm intensities increasing by about 40%.
Emanuel's conclusion is that only part of the increase in storm intensity can
be explained by the increase in sea surface temperature. Other factors, like
sub-surface temperature (which has also been rising) are likely to be needed
to explain the rest of the increase – as well as cyclical factors.
But is Emanuel just a lone crank? That's the impression that Recer gives:
After 24 years of relative quiet, more than 30 major hurricanes have churned

in the Atlantic since 1995. Most researchers, however, think that increase

has nothing to do with global warming. Those who study tropical cyclones say

that Katrina was part of a natural cycle of angry storms that will batter

North America for decades.
But note that Recer is fudging a little here: while the sharp increase over
the past ten years might be cyclical, would "most researchers" say
the same thing about the increase over the past 30 years? Here's the graph: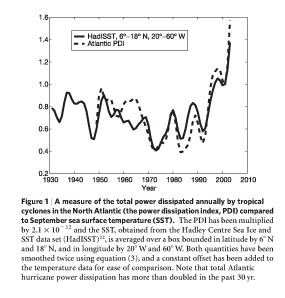 What Emanuel is talking about is the steady increase from the mid-1970s, not
the shocking increase from the mid-1990s. Yes, hurricane intensity is obviously
cyclical, to some extent. But that doesn't preclude a secular increase as well.
But this is where science journalism starts to break down. We can't all go
back to primary sources and check for ourselves; and in any case, the vast majority
of us are quite unqualified to read charts like the one above. Ultimately, we
have to take it on trust that journalists are presenting research fairly. It
could be true, pace Recer, that most scientists think that increased
storm intensities have nothing to do with global warming. On the other hand,
Kristof doesn't simply site "most researchers": he cites names and
papers of many scientists saying quite the opposite.
What would be great would be if a qualified scientist could give us a layman's
guide to exactly what the broad mass of scientists really believe about such
things. I wonder if my sister might be intersted in providing such a thing.