I had this very conversation just yesterday, when my friend Ephrat came over
at lunchtime with a tailcoat she'd embroidered for my upcoming wedding. But
today Lindsay has nailed
it with a bile-filled stream-of-consciousness rant which I sympathise with
100%.
I take some solace in the fact that the vast majority of the things that Lindsay
is railing at don't apply to me. But I don't kid myself that she wouldn't include
me in that group anyway. Over the past year I've proposed marriage, gone apartment-hunting,
and actually bought a new place on Avenue B and 3rd Street. Before long I'll
be set up with a master bath and a spare bedroom and a barbecue in the back
yard. This Is Not Punk Rock.
When I moved to New York, I had the time of my life. I partied all night, I
had platinum-blonde hair, I wore ridiculously outrageous clothes which had made
it to Century 21 because no right-minded male would ever buy them. I shared
a basement duplex with a transexual party promoter and too many cats, I subsisted
mainly on $1.50 slices of pizza, and I spent significant amounts of time comparing
prices on Levi's 501s so that I didn't spend an extra $4 unneccessarily.
The company I worked for didn't pay us website people very well, which meant
we couldn't afford to go to the coffee shop in the lobby every day. We therefore
went out and bought our own coffee machine instead. Which had a habit of overloading
the power system and thereby shutting down all the computers in the office whenever
we turned it on, which was kinda funny.
Over time, things changed. Even as my disposable income rose, my desire to
go out and party all night waned. The process was accelerated when I changed
jobs: the new one entailed getting up very early every morning, which meant
that come Friday I'd normally be passed out on my bed by 7pm.
You can look at what I was writing
in mid-2001 and already it's clear that I've become a privileged yuppie, albeit
one who hates himself for being that. Ephrat told me yesterday that a self-aware
boring yuppie who knows he's a boring yuppie is better than an oblivious boring
yuppie who, in Lindsay's terms, "starts believing a person can be interesting
just because they're famous or rich".
Meanwhile, Ephrat herself – a woman who has dedicated her life to making
the world a better place, and who values her beliefs much more than any job
– even Ephrat is occasionally tormented with worry about her New York
City lifestyle and whether it's not a little hypocritical. Which means there's
really no hope for me.
But I've been this way for a while, now. My decisions to become a property-owning
married man are maybe not as momentous as they seem, insofar as in many ways
they only ratified my pre-existing condition. I've been living in this same
apartment for well over 7 years now, firstly with a succession of roommates,
but then the last one moved out and Michelle moved in. At that point we had
an entire two-bedroom apartment to ourselves: we had attained a comfortable
lifestyle which, once achieved, is very difficult to give up.
I do envy my younger self, and his ability to have a great time without the
need for comfort and luxury. I envy people like Ephrat, or Lindsay, or my sister,
who are still in that place today. I feel a bit like David Byrne, who got
the question right many years ago:
And you may find yourself in a beautiful house, with a beautiful wife

And you may ask yourself-well…how did I get here?

…

And you may tell yourself

My god!…what have I done?
The easy answer, of course, is also the difficult one. It's "well, I've
grown up". It's something I never really wanted to do – something,
in fact, I promised myself I wouldn't do. I never liked grown-ups, I never liked
their smug security and their indulgent attitude towards the likes of me.
And there are some people who are very good at not growing up. Four years ago,
one such person gave a rather self-satisfied speech at the rehearsal dinner
of a friend of mine who was getting married: "Congratulations," he
essentially said, "on growing up even as I never managed to". I jumped
to my friend's defense, and gave a speech of my own. No, I said, my friend wasn't
a boring grown-up. He might have a posh job and a beautiful wife, but he was
still the same guy who only a couple of years previously was living in a St
Mark's tenement with the bath in the kitchen and the toilet down the hall.
Well, I was wrong. My friend had become a grown-up, much as I refused to believe
it, and now I'm becoming one too. Or rather, I've been one for a while, and
now I'm admitting it. "Let's not become what we've always hated just yet,"
says Lindsay. "Or is it too much to ask – ever?" Maybe, Lindsay, it
is too much to ask. I wish you luck in your endeavour, but ultimately
it's not a binary thing: we all fall somewhere on the spectrum, and a Manhattan
lifestyle in a model-infested building with elevators and security guards and
a large-format photograph of a Chinese river in the lobby is not particularly
Punk Rock either.
I've long believed that the secret to happiness is not getting what you want,
so much as being happy with what you've got. (Don't worry: that's about as Deepak
Chopra as I ever get.) That's why I'm not ambitious. Other people can chase
their dreams; I'm happy as I am. Or that's the theory, anyway. In practice,
if there isn't a disconnect in one direction, there's a disconnect in the other:
what if you don't want more, but in fact you want less? What if you
have a bizarre love-hate relationship with your disposable income? On the one
hand, I love having the freedom to wander down to the local coffee shop for
a capuccino and a salami sandwich whenever the fancy takes me. But on the other
hand I feel that I don't really deserve or need that freedom, and I'm perfectly
capable of looking after myself without it.
I certainly have no interest in returning to my lifestyle of eight years ago:
I've discovered the wonders of monogamy, for one thing. And in any case I'm
probably getting a bit old for that kind of thing. So maybe I should just be
happy that I was happy then and am happy now.
The way I see it, one always cuts off possibilities over time: it's part of
what growing older is all about. Youth is about exploring those possibilities,
choosing some and spurning others. When we spurn possibilities in our youth,
we don't notice it so much, because there are so many left. But eventually you
reach a point where you find yourself with that beautiful house and that beautful
wife and you ask yourself how you got there. And it was never a considered decision,
it was just a concatenation of natural choices. It's like the present debate
over intelligent design: just because something looks premeditated, doesn't
mean it is. And just because you didn't always want to end up here, doesn't
mean that here isn't actually a pretty good place to end up.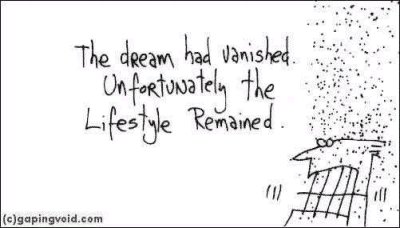 Bohemianism, for lack of a better term, is a lifestyle and a dream: it's a
way of living, and a desire to keep on living that way forever. Hugh Macleod's
cartoon today
is one of his classics: one of the ones he explicates on this
page. Here's how he describes it:
Spring '98. I was at a bar, it was late, I was kinda tipsy.

Suddenly I realized that my life hadn't changed much in the last decade since

leaving college. Work, bars, cartoons, random conversations of a big-city

nature, second-hand bookshops and art films, the occasional bout of random

or regular sex to tide things over etc etc.

It wasn't as interesting as it used to be. But I hadn't moved on, really.

And I had no idea where to go next.

Welcome to New York.
For Hugh, the bohemian dream had faded, but the lifestyle remained. For me,
it's the other way around: the dream remains, but the lifestyle is now long
in my past. I think I'm better off this way round.