I've long had an interest in what was going on at 90-96 Clinton Street, between
Rivington and Delancey. For a long time it was one of the neighbourhood's better
99-cent stores, before a long demolition job started which carefully left the
façade intact. Weirdly, the façade was then torn down anyway,
and a bland new apartment building went up in its place.
I checked it out yesterday: I'm interested in how the process of gentrification
does or doesn't affect the quality of new apartment buildings. I expected something
pretty snazzy, since I'd noticed during construction that there were some duplex
apartments – people who pay a premium for higher ceilings generally
want, well, a premium apartment.
In fact, however, 90 Clinton is one of the shoddiest buildings I've seen. Everything
from the paint jobs to to the tiling looks as though it was done as hurriedly
and cheaply as possible, and the apartment themselves are almost comically nasty.
The kitchens, especially, are really gruesome: the stoves are electric, with
old-fashioned coil elements (no halogen here, or gas), and in the one I looked
at, the doors to both the cupboard and the oven couldn't open all the way because
they bumped into the light fixture and another cupboard's door handle, respectively.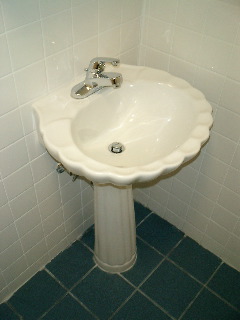 The duplex apartments felt pokey, with long, narrow rooms which seemed expressly
designed to minimise whatever benefit you got from the extra height. Even the
windows are stupid: each double-height room has two air-conditioner sleeves,
one down at room level, and one slightly more than halfway up, right in the
middle of where you want the windows to be. At the back, a rickety wooden staircase
leads up to a dingy sleeping den upstairs, which not only receives very little
sunlight, but doesn't even have an built-in light of its own. As for the bathrooms…
well, you get the picture.
Of course, as a paid-up Lower East Side ironist, I naturally looked up as I
left the building, to the big sign advertising "luxury rentals". The
obvious reaction is that "luxury" has lost all of its original meaning
in recent years, and now simply means "expensive": the duplexes, with
one small bedroom and one smaller, open loft space, rent for between $2700 and
$2900 per month. By comparison, a proper 2-bedroom in my building, around the
corner, with high ceilings and rooms which all have doors, is currently on
the market for $2400 a month.
But then I had an epiphany: "luxury" is to developers as "like"
is to valley girls: it's actually a completely meaningless word, which gets
thrown around willy-nilly when they can't think of anything substantive to say.
In an attempt to back this up, I'm hereby launching a competition: a free drink
to anybody who can find a new market-rate development in Manhattan, either condos
or rentals, which doesn't call itself "luxury". Any takers?