I've spent a lot of time on this blog writing about a big new Manhattan development.
It features a landmark office building designed by David Childs, and is meant
to be one of the most important new shopping and dining destinations in the
city – augmented, of course, by cultural attractions. I refer, of course,
to the World Trade Center site, although I could just as well be talking about
the new Time Warner Center.
So, in an attempt to get a feel for what we might be in for, I ventured boldly
forth to the Upper West Side this afternoon, to check out The Shops at Columbus
Circle (for that is what this mall
urban retail center has been called). As I walked down Central Park
West towards the new building, I had my own prediction
(about the World Trade Center) in the back of my head:
A large number of national chain stores is an inevitability, if only because

– obviously – there can't be any small local shops who have been

there for generations. Judging by the World Financial Center, there might

be a few independent restaurants, but the shops are likely to be pretty bland

and corporate.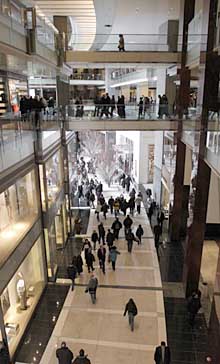 It
turns out that my invocation of the World Financial Center was prescient. Take
a look at the photo to the left: it's basically the WFC with catwalks. Inside
and out, the space looks and feels very WFC-esque: there's the same pattern
of large square windows in steel and stone; the same antiseptic corridors lined
in expensive marble; the same feeling that, basically, you're shopping in a
high-end office building, or a luxury hotel. Which, of course, you
are.
There is a reason why the best hotel restaurants in New York go to great lengths
to disassociate themselves from their hosts – they have different names,
different addresses, and their own dedicated street entrances. Large hotels
and office buildings, no matter how high-end they are, basically work from the
assumption that they have to be all things to all people. The blandness is not
the result of a lack of imagination: it comes out of the necessity of not offending
anybody.
New Yorkers, on the other hand, have very little truck with not being offended:
if we were easily offended, we would have left this city long ago. What we want
is something interesting, something with character. We'll try anything once;
if we don't like it, we won't go back. But better to err on the side of the
adventurous than to stick to the formulaic.
In such a town, the most successful hotel restaurants don't look like hotel
restaurants at
all.
As it goes for restaurants, so it goes for shops. One of the hottest shopping
districts right now is 14th Street between 9th and 10th, home to the likes of
Alexander McQueen and Jeffrey. It's hard to get to, it's convenient for almost
nothing, and it smells of rotting meat. New Yorkers don't just not mind a bit
of inconvenience: they actively seek it out. Ever since the light-industrial
wastelands of Soho and Tribeca were first populated by loft-dwelling bohemians,
there's been a sense that grotty beats glossy every time.
This isn't just a downtown thing, either. New Yorkers love their quirky department
stores, like Henri Bendel, almost as much for their limitations as
despite them. When it comes to shopping, bigger is most definitely not better:
while we might have one of the largest shops in the world, I'm pretty sure that
Macy's customers are mostly tourists.
What's more, New Yorkers are finely attuned to what is unique and what is not.
New York's most successful retail openings in recent memory were those of the
Prada store on Broadway and Prince, closely followed, in time, geography, and
sensibility, by the Apple store on Prince and Greene. Beautifully designed,
light-filled spaces work wonderfully in Soho, where they contrast with the older
architecture to create a lovely interplay between the industrial and the high-tech
eras.
At Columbus Circle, there's certainly no shortage of light and space. But there
are no objects of desire fetishistically displayed within the glass and steel
enclosure: rather, all that you see upon entry is walls, escalators and store
logos. Walking around the building, it's depressing to note that probably the
most inviting part of it is the Thomas Pink store which occupies the 60th Street
end of the arcade on ground level. Visible from the street, the shirts in the
window attract passing foot traffic. At the main entrance, however, there's
really nothing pulling the pedestrian in to the atrium, since there's no product
to be seen. Instead, you're simply pointed to what is where: a bookshop upstairs,
a kitchen-equipment store at the back, a supermarket down the escalator.
A word about that supermarket is probably in order. Yes, it's big, and yes,
it's impressive. But it also seems to have been designed by a madman: at the
bottom of the escalator, there's a food hall behind you, where you can't buy
food, just sit down and eat it once you've bought it. There's a supermarket
to the left of you, where you get your groceries. And there's a food court in
front of you, where you get the food to be eaten in the food hall. Then –
and this is the genius bit – there's a bunch of check-out counters, with
a very incoherent queueing system, to your right. Everybody, whether
they're buying groceries or ready-prepared food in plastic washable bowls, pays
at the same place. I tried to get a chicken vindaloo, but rapidly realised that
it was going to go cold by the time I was able to sit down and eat it.
The above-ground levels have similarly bad design: one would think that it
was crucial, in a vertical mall, to have lots of stairs and other means of getting
easily up and down from one level to another. Instead, escalators are placed
at the ends of the arcades, and I didn't even bother trying to get to the top
level.
At the ground level, things are even worse. Upstairs, at least, the shops seem
to know how to present themselves. But down at street level, the same design
plan seems to have been imposed on everybody, where you have to crane your neck
and look up just to find the store logo and work out whose merchandise you've
been admiring.
And nowhere is there any sense of surprise or joy. As Manhattan Users Guide
says,
New York derives a lot of its energy from fresh, absurd, or delightful juxtapositions.

But what do you get when you juxtapose J. Crew and Sephora? Crabtree &

Evelyn with Godiva? (For how to do it right, the planners should have spent

some time in Grand Central.) You could name most of the retailers without

knowing a thing about the place.
Indeed, I might add, you could name most of the retailers just by looking at
the type of shops in the World Financial Center, that epitome of Stepford-style
blandness. And MUG is absolutely right about Grand Central, which is a masterpiece
of well-edited retail and food outlets, with nary a national franchise in sight.
So what does this mean for the WTC site? I fear the prognosis is bad. The original
WTC mall, after all, was truly gruesome: the only saving grace in the entire
site was the Borders bookshop. Other than that, it was The Limited next to Sbarro
next to… well, the fact that I can barely remember anything else, despite
the fact that I used to walk through there every day, speaks volumes. It was
home to commuters with thousand-yard stares occasionally picking up a birthday
present for the kids on their way home.
The new WTC won't be as bad as the old one, of course. For one thing, most
of the shops will be on streets, as opposed to being in a contiguous mall. But
if Time Warner starts making money off The Shops at Columbus Circle, I wouldn't
be at all surprised to start seeing vertical malls popping up in the WTC office-tower
designs. And even without vertical malls, if the shops are just rented out to
the highest bidders, we're going to see the same set of nationally-recognisable
franchises, and no sense of character or individuality.
Everybody involved in the WTC planning process agrees that the site should
be a vibrant new city district, with streetlife, nightlife and cultural life.
But entire districts are hard to build from scratch: any new development will
inevitably have a certain amount of sterility to it. What I hope is that someone
smart will take MUG's advice, look at the Time Warner Center, look at Grand
Central Station, and realise that a bit of central planning can go a long way
in giving an area a personality.
For too long, the west side of lower Manhattan has been devoid of any kind
of positive characteristics. A little slice of suburbia nestled next to the
financial district, it stands in stark contrast to the riotous streets found
east of Broadway. It desperately needs an injection of a little bit of New York
attitude.
There are two things which could happen when the Fulton Street corridor is
completed, and downtown becomes a coherent whole again. Homogenisation could
creep eastwards from the WFC and WTC towards Fulton and Nassau, especially if
lots of new retail is auctioned off as part of the subway station redesign plans.
Alternatively, the reintroduction of Fulton and Greenwich streets, finding their
rightful way back onto the map after a long and painful absence, could create
a lively new civic center: think the Beaubourg in Paris, with Santiago Calatrava's
gorgeous new PATH station playing the role of the Pompidou Center.
In order for that to happen, the designers of the new site are going to have
to leave themselves open to uncertainty and a little bit of chaos. If everything
is planned and profit-maximised, it'll just be like today's Upper West Side
(complete with unimpressive David Childs monolith), only even more boring.