Sunday is clearly the day for long-windedness in the New York Times. The paper
leads with a 9,500-word investigation
of the Lackawanna terror case (don't ask me), complete with a 1,300-word kicker.
And on the op-ed page, we're subjected to 2,300
barely-coherent words by Tom Wolfe on the subject of 2 Columbus Circle,
complete with a note mentioning that this screed is only "the first of
two installments". (Update: The other shoe dropped today, Monday.)
Tom Wolfe, of course, is the author of From Bauhaus to Our House,
the favourite architecture book of the kind of people who have only ever read
one architecture book, or of people who don't know much about art but know what
they like. Still, the book is deservedly popular: while Wolfe can be wrong-headed
a lot of the time, he's also a great writer, and lots of fun to read.
He was a great writer, anyway. Back in the day, he could construct
265-word sentences which were masterpieces of virtuoso journalism. Nowadays,
as his op-ed shows, he seems to be of the opinion that any 265-word
sentence of his must, perforce, be a masterpiece of virtuoso journalism, with
the result that he rapidly degenerates into into little more than "coherently
challenged" babble, to use his own favourite term of abuse.
Wolfe is also much better when attacking architects than when defending them.
The point of the op-ed, one assumes, is for Wolfe to throw his weight behind
the preservationists seeking to restore Edward Durell Stone's 2 Columbus Circle
and keep it more or less as is, albeit both occupied and safe – neither
of which it is at the moment. The alternative, against which Wolfe spends much
time wailing, is a plan by Brad Cloepfil to basically rebuild the structure
as a new home for the Museum of Arts and Design, completely revamping it inside
and out.
Here's the building, as it looked when it was first built, as it looks today,
and as it is proposed to look after the refit.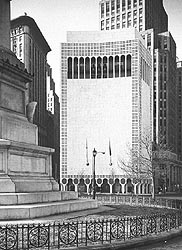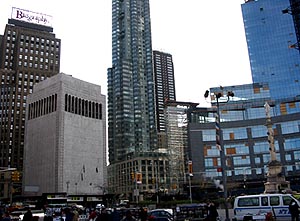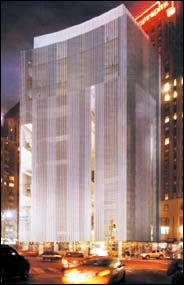 Clearly, Stone's gleaming white marble isn't gleaming any longer. But the fact
is that the building was never all that good, and the arguments for its preservation
are generally pretty weak. Here's
Robert A M Stern, of the Yale architecture school:
New York is where orthodoxies are challenged by new ideas. Two Columbus Circle

was just such a challenge, and it clearly challenges us to this day. Its provocations

are as important now as ever. It was and is a pot of paint flung in the face

of the high Modernist establishment. For this reason, if no other, Two Columbus

Circle must be preserved intact for future generations to enjoy, consider,

debate, and learn from.
The building must be preserved, if only because it's provocative? This is the
height of silliness. Preserving great buildings, and even merely good buildings,
is one thing. But preserving provocative buildings is another thing entirely.
The fact is, the kind of people who love From Bauhaus to Our House
are exactly the sort of people who look at 2 Columbus Circle and consider it
a hideous eyesore. This building is one of the few things on which both die-hard
Modernists and most anti-Modernist laymen can agree: very, very few people actually
like it.
What's not obvious from the photographs is the way that 2 Columbus Circle makes
you feel when you look at it in real life. It's a tall building, even if it's
not as tall as the skyscrapers which surround it, and the vast majority of its
height is simply a vast expanse of crumbling blank stone, with no features at
all, redeeming or otherwise. The lack of windows gives it the feel of a prison:
you imagine yourself stuck inside, unable to look out. It is an exercise in
claustrophobia, and the new design constitutes a vast improvement.
Wolfe's op-ed appeared on the weekend of Open
House New York, the annual and incredibly popular event where interesting
buildings around the city are opened up to the public. I went to a few, and
would loved to have gone to more, except a lot of them were booked out very
early and in any case I was busy on Saturday with a wedding to go to.
But what is clear from the popularity of OHNY is that New Yorkers have a genuine
enthusiasm for new architecture, and that there's lots of very cool and interesting
stuff going on at the moment. Now New Yorkers love old architecture as well:
some of the best bits of OHNY are where they open up an old lighthouse in Fort
Washington Park, or the Tweed Courthouse, or the Washington Square arch.
Still, I'm pretty sure that the mood in the city these days is that brand-new
buildings are usually pretty good. Places like the Hayden Planetarium are instant
classics, and although there are certainly some dull office buildings under
construction, the knee-jerk public reaction against nearly all new architecture
is a thing of the past. Think to yourself: if you heard that your local train
station or airport was being rebuilt, would you be happy or sad? Happy, I think:
such projects are nearly always improvements, these days, in contrast to the
days when the old Penn Station could be razed to make way for Madison Square
Garden.
It takes a particular type of pessimist to look at something like 2 Columbus
Circle and decide that although it has many failings, it must surely be better
to preserve it than attempt to create something better. To have that mindset
you basically have to work from the assumption that nearly all new architecture
is crap, and that as a rule the past is going to be better than the future,
architecturally speaking. That kind of defeatist attitude is not the kind of
thing which built the Chrysler Building, and it's frankly unNew Yorkish. Wolfe
should retreat to his wood-panelled study on the Upper East Side, and leave
the rest of the city to the people who will inherit it with enthusiasm.