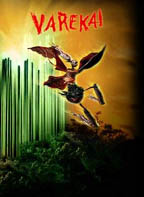 I
saw my first ever Cirque du Soleil show last night. Imagine that – 31
years old, and somehow I'd managed to avoid it until now. Snob that I am, I
expected mass-market middlebrow entertainment, and went as much out of curiosity
as out of any particular desire to see what all the fuss was about. But I wasn't
about to pay $95 for a ticket. Fortunately, a Large European Bank provided me
with an invitation, as well as the all-important transportation to and from
Randall's Island.
Cirque du Soleil is even better than Andrew Lloyd Webber and Cameron Mackintosh
when it comes to persuading vast swathes of the population to pay eye-popping
prices to go see a show. Every day in Las Vegas, hundreds of people line up
at the Bellagio hotel in an unsuccessful attempt to buy $110 tickets to that
day's performance of O: it's been going for five years now, and still
sells out 2,000 seats at each and every performance.
This is not a run-away-and-join-the-circus sort of show: it's very slick, very
professional, and very focused on the most important thing, which is making
money. The shops sell everything from $12 "souvenir programmes" (which
take about a minute to read) to discarded items of clothing from previous productions
on sale for thousands of dollars each. The circus's founder, already one of
the richest men in Canada, says he expects to be a $1 billion-a-year business
by 2007. And yet there's no mistaking the goodwill of the audience: people are
really excited to see this show, and if anything the high prices only serve
to heighten their expectations.
The sold-out crowd for Varekai, Cirque du Soleil's latest production,
started arriving well over an hour before the performance began. I know this
because I did, too, but at least I had the VIP tent to check out, complete with
free-flowing Champagne and delicious canapés. Cirque du Soleil lays on
a great VIP experience, with its own mini-performances, fabulous costumes, along
with fully-decked-out circus objects like crazy mechanised heads and fluffy
bugs crawling around on aerial wires. I have no idea what the non-VIPs did:
queue up to buy popcorn, I suppose. Randall's Island is an unpreposessing place,
a lump of nothing much stuck in the northern reaches of the East River, between
Manhattan, the Bronx and Queens. But the circus itself is colourful enough,
with a brightly-swirling yellow-and-blue big top, if no sideshows.
When everybody was seated, the show began, very, very, slowly. One costumed
person came out and crawled around the stage in a vaguely bug-like manner, followed
by a few more. This went on for a long while until an incomprehensible clown
act marked segued, finally, into a beautiful aerial act by an Icarus figure,
sans wings, rolling around in mid-air in a big net. After that, things speeded
up a bit, and we had a series of impressive circus acts, including three amazing
Chinese kids who did incredible things with lengths of rope.
Ultimately, however, a circus act is a circus act. Girls hanging off a trapeze,
guys jumping over each other, people balancing in difficult positions: these
are the bread-and-butter of any circus, and although Cirque du Soleil does them
well, it doesn't shatter any boundaries. The only thing it's missing is a high-wire
act, and apparently there's no shortage of those in other Cirque du Soleil productions.
This is not Archaos, with its motorcycles
and chainsaws; rather, it's an expensive and slightly new-agey show which gussies
up an old-fashioned circus so much that it becomes entertainment for grown-ups
rather than for children. (Soon, there'll be a genuinely adult show, Zumanity,
although judging by its FAQ,
Cirque du Soleil has gone overboard on both portentiousness and pretentiousness.
Why not just do something sexy, seeing as how it's going to be permanently based
in Las Vegas?)
The conversation during the intermission rarely got beyond the "which
act was your favourite" phase: Varekai certainly isn't thought-provoking,
or even something it's remotely easy to talk about in any way at all. Thankfully,
Julia Roberts was seated a couple of rows in front of us, so the bond investors
and bankers had a ready-made topic to gossip about. The show is all about present-time
experience: schlubby Americans marvelling at the athleticism and stamina of
some phenomenally talented performers. (To make things even more impressive,
this show is put on ten times a week.) Once it's over, it's over.
This is something I've never been very good at: admiring art of any form just
because it's physically difficult. That's one of the reasons I'm no great fan
of dance, either classical or modern, and why virtuoso musical performances
often leave me cold as well. Ultimately, that's what a circus is all about:
seeing people and animals do things you never thought that a member of that
species would be capable of doing. Cirque du Soleil, quite rightly, has never
used animals, but the principle remains.
So should you splash out on tickets for Cirque du Soleil? Michelle says
it's "a pretty good experience" and that you should go if you can
make it and the tickets are free; I'm basically of the same view. If you love
the circus, then rush to Randall's Island: this will be paradise for you. If
you're generally indifferent to circuses, however, then it's unlikely Cirque
du Soleil is going to change your mind.